Our "CH" (4) litter Radinie is here. There are 4 boys/ 5 girls, were born on June 10th, 2021:-D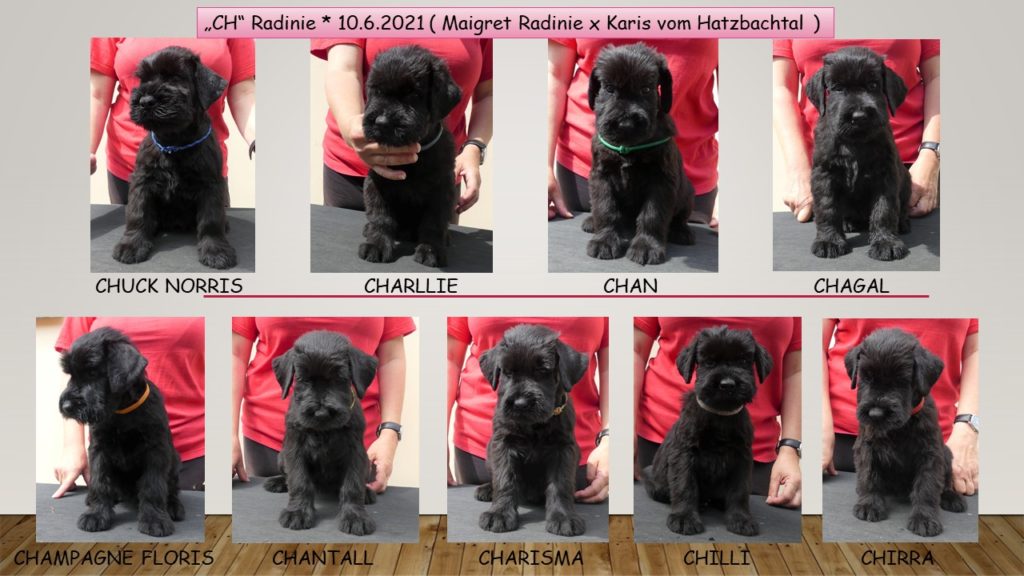 CH (4) Radinie puppies, 6 weeks old – portraits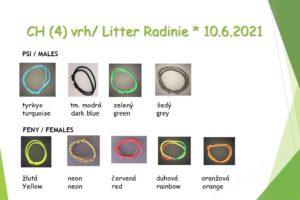 You can find more photos here :
1.day https://www.zonerama.com/radinie/Album/7336809
1.week https://www.zonerama.com/radinie/Album/7351133
2.week https://flic.kr/s/aHsmW9VxuY
3.week
4. week – http://home.itextra.cz/photo/
Week 5 – lots of photos + video 😉 Photo Station 6 (itextra.cz)
First litter after a young female KARIS vom Hatzbachtal – you find out more about the female here
You can find out more about father MAIGRET Radinie here

Kinship coefficient

for this pairing is 0%
Puppies are particularly suitable for sporty dog handlers who use their work potential.
Both parents are sport dogs, very sociable, very family-friendly, their domain is the protection :), both are characterized by very good entry, they are very fast and have excellent firm grips. Maigret has proven herself in many races including the Giant Schnauzer Championship, Czech All Breed Championship and the ISPU World Championship. In all races he drew attention to himself with his convincing protection ! Both parents are also big prey dogs, they love balls ;). Karis is ready for IGP 1, unfortunately she could not pass the exam due to the coronavirus pandemic. As is our custom, both parents have appealing looks with show titles too.