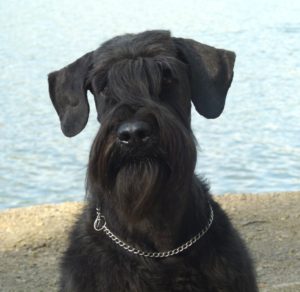 FENJA
is a square female with a pretty typical feminine head, dark eyes. It is a typical Giant Schnauzer that corresponds to the German standard. She has a short back, a short, broad loins, a deep chest and pronounced broad pre-breasts, very good angle and rich hard coat black fur all over.
Fenja (called Fren) came to us only at the beginning of June last year. I have accidentally learned that it is offered for sale. Their sympathetic nature and their exterior convinced me so far that I wanted to have them in my breeding.
Fren is mother "U" + "V" + "X" + "C" litter Radinie, is champion of the Czech Republic, Clubchampion CZ, pased "basic" licensing with best result 00/4A/5 and existed BH, ZM, ZZO, IPO 1 (95/85 /88a) Examinations.
Fren is very open-minded, kind, absolutely balanced, uncomplicated, always self-assured in every situation, spirited. She loves her family and especially the children. She likes to play ball and squeeze toys:) . She loves to swim.
In the protection, it convinces with its solid, full and quiet handles.